The House of Scalamandré
Handcrafted Lampshade
COLLECTION
The House of Scalamandré presents an exclusive range of handcrafted soft-back lampshades in signature prints from Old World Weavers, Grey Watkins and Hinson. Manufactured and stocked in the USA, these quick-ship designer lampshades add a touch of joy and whimsy to any space. All our shades are self-trimmed in the matching print and fully fabric lined for ambient light diffusion and a luxurious feel.
SCROLL TO DISCOVER
COLLECTION DETAILS
· Self-welt with matching print
· Fully fabric lined
· Standard washer top in nickel finish
· Available in one size
· Made in the USA
· Each lampshade is hand-stretched and sewed over a wire frame, making this a truly handcrafted product
· Soft-back lampshades offer a more diffused ambient light than hard-back lampshades
· The surface of a soft-back lampshade is flexible and will not dent like a hard-back lampshade, making the product more long-lasting
· Pleated lampshades are hand gathered to create the dimensional, shirred effect

The House of Scalamandré
DRUM SHADES

The House of Scalamandré
PLEATED SHADES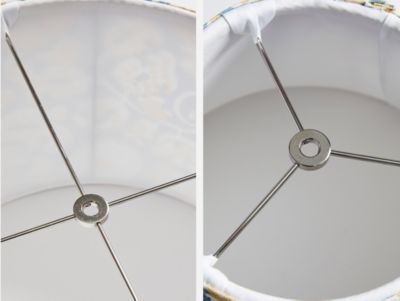 Each shade features a standard washer top in nickel finish. Left: Drum Shade Detail. Right: Pleated Shade Detail.
The House of Scalamandré - Handcrafted Lampshades