Scalamandré
THE ICONIC ZEBRAS
WALLCOVERING, FABRIC, TRIMMING & MORE!
Dating back to 1945, our most iconic pattern has been a designer mainstay that is showing no signs of slowing down. In 2023 we are proud to introduce new colorways for the wall, a rescaled print along with an embroidered tape.


SCROLL TO DISCOVER
DESIGN THAT GIVES BACK


Zebras hold a special place in our hearts at The House of Scalamandré. What started in 1945 as wallcovering in a beloved Manhattan restaurant has now become our most iconic motif, synonymous with the brand itself. And it is through our love for this majestic, striped animal that we discovered the dwindling of the Grevy's zebra. Also referred to as the Imperial zebra, Grevy's Zebra is the largest living wild equid, and the most threatened of its species.
The House of Scalamandré is proud to partner with Grevy's Zebra Trust (GZT), an independent wildlife conservation trust, to help raise awareness for this urgent cause. In support of their efforts to conserve Grevy's zebra in the community rangelands of Kenya and Ethoipia, we are pleased to donate a portion of all Scalamandré Zebras sales to GZT.
GZT is the only organization worldwide with a mission focused solely on conserving the endangered Grevy's zebra. Recognizing that the survival of the Grevy's zebra depends on its ability to coexist with people living in northern Kenya, GZT believes these communities must be at the center of designing and driving conservation efforts. GZT is a close-knit team, based in the Northern Kenyan regions of Wamba, El Barta and Laisamis. Here, they employ more than 80 local people who work together to address the threats facing Grevy's zebra. GZT therefore works in partnership with communities from monitoring Grevy's zebra through citizen science, to co-designing site-specific and tailored solutions to threats facing the species. In all of its work, GZT seeks ways to use data and information to inform decisions and solution for positive conservation outcomes. For more information on Grevy's Zebra Trust, visit grevyszebratrust.org.
We also encourage those in the design world to help us give a voice to this urgent cause. Donate to GZT.
The Story of How Scalamandré's Prancing Zebras Earned Their Stripes


Our legendary striped zebra print reached star status decades ago, and it all began within the walls of an Upper East Side restaurant in Manhattan. In 1945, Gino Circiello, the owner of renowned Italian eatery Gino of Capri (known to its A-List regulars as Gino's) dreamt of safari adventures but lacked the money for travel, so instead he dreamt up a hunt scene to wrap the walls of his restaurant, and enlisted his friend Valentino Crescenzi to draw it for him. The result: a playful yet striking depiction of zebras and arrows set against splashy red that quickly became synonymous with the restaurant itself.





Owners of "Gino of Capri" circa 1955 with the original Zebras wallpaper. Gino Circiello second from left and Guy Aventuriero far right. The two partners, Circiello and Aventuriero, financed the restaurant, along with help from Franco Scalamandré.




Images: "The Missing Ingredient"




Gino's was famed for hosting celebrity guests from Jackie Kennedy and Marilyn Monroe to Frank Sinatra and Ed Sullivan, but they were equally famed for their signature zebras. So when a fire ravaged the restaurant in 1973, recreating the sauce red, animal-clad walls was just as important as being able to serve spaghetti again.

Franco & Flora Scalamandré
And this time, Gino called on his friend Franco Scalamandré for the job. Franco's wife Flora Baranzelli Scalamandré crafted her own copy of the original, and so began Scalamandré's spin on the dashing print.



Gino Circiello seated at Table #6 at "Gino of Capri" featuring the "Missing Stripe", 1986.
The Missing Stripe
When Flora's version was printed, a stripe on the baby zebra had gone missing, but no one minded, as it added an extra dash of whimsy to the design. Scalamandré began stocking screens at their New Jersey mill shortly thereafter, and little did they know, zebras staying power would prove bigger than ever.



Daniel Krieger's - "Looking in on the action"
Print available for purchase
ZEBRA SCREENING
The It-print entered the Hollywood zeitgeist with two major film features, Woody Allen's "Mighty Aphrodite" in 1995 and Wes Anderson's "The Royal Tenenbaums" in 2001. And despite Gino's closing its doors after 65 years in 2010, the modern interpretations to come of this zebra print would be endless.



"Mighty Aphrodite" (1995) Miramax Films
Above: Helena Bonham Carter and Woody Allen.



"The Royal Tenenbaums" (2001) Touchstone Pictures. Photos: The Everett Collection.
Above: Irina Gorovaia as young Margot Tenenbaum, Gwyneth Paltrow as Margot Tenenbaum, and Anjelica Huston as Eteline Tenenbaum.


"Morbius" (2022) Columbia Pictures.
Above: Matt Smith as Morbius.
EXPANDING THE DAZZLE
During in the 2000s, the pattern had expanded to offer new colorations for the wall, speciality versions on grasscloth, as well as residential and outdoor fabric options.



The iconic wallcovering is printed by hand in the USA.
ZEBRAS WALLCOVERINGS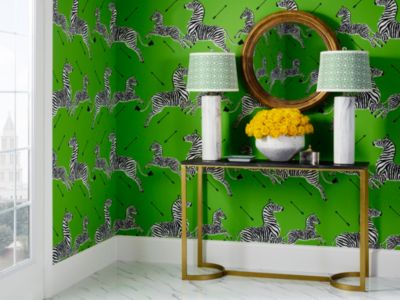 Wallcovering: Zebras - Wallpaper in Limelight. Lampshade Fabric: Tile Weave in Jade.
HAND PRINTED ZERBAS WALLCOVERING

Wallcovering: Zebras - Wallpaper in Masai Red.
Powder Room Design: Liz Caan. Photo: Joe St. Pierre Photography.
ZEBRAS - VINYL TYPE I - Ideal for Bathrooms
ZEBRAS FABRIC OFFERINGS (Residential, Outdoor & Petite)
STRIPES AMONG ZEBRAS - Additional offerings showing our love of the motif
Kenya Faux Suede is a refreshing interpretation of a classic animal skin print. From the painterly treatment of the motifs to the luxurious hand of the faux suede ground, this durable digital print shows beautifully as an upholstered headboard or a chaise lounge chair.
SAFARI CHIC

Wallcovering: Tigress in Frost. Throw Pillows: Tigre - Silk in Ivory, Gold & Black and Toscana Linen with Zebras Embroidered Tape in Yellow.

Our Zebras pattern is reimagined as an embroidered tape on a linen ground. This playful passementerie adds an unexpected detail as the leading edge of drapes, or a signature border on an ottoman or bench. Zebras Embroidered Tape is offered in a colorful spectrum coordinating with both the printed fabric and wallcovering.


Zebras Embroidered Tape
PILE ON THE PILLOWS

Zebras Petite Pillows

When it comes to Zebras, more is more! Amp up your space with our colorful mix of throw pillows, perfect for adding a dash of whimsy anywhere you place them.
ON THE BRIGHT SIDE



Dress up dreary days with our Scalamandré Zebras Umbrella, featuring a classic black outer shell with signature prancing Zebras on the inner lining. Made of the finest materials, this durable, vintage-style umbrella features a charming wood handle and has a 48" canopy arc, perfect for roaming the rainy streets in style.



STEP OUT IN SOMETHING CLASSIC



Fashion meets interiors with our signature zebras, reimagined on embroidered cotton velvet for iconic shoemaker, Stubbs & Wootton. Choose from six classic hues in men's and women's sizing, or go casual with our raffia sneakers. Don't forget our coordinating pocket-sized bags to match. Chic and unique, these slippers incorporate The House of Scalamandré's heritage with Stubbs & Wootton's exceptional craftsmanship.

Designed with our Scalamandré style mavens in mind, we've launched a men's and women's capsule collection of socks, each pair a celebration of our most iconic motifs. Offered in Zebras, Leaping Cheetah and our Calabasas County frogs, these cotton-rich blend socks make a chic top-off to any ensemble. Our eye-catching socks have a reinforced toe and heel for durability, and double-welt cuff to keep them in place.


ZEBRA FURNITURE
RED FROM SCALAMANDRÉ CRAFTED BY CLOTH & CO
Since 1929, Scalamandré has been considered a destination for connoisseurs of fine design and all things beautiful. We are proud to extend our legacy with our first retail furniture collection, crafted by heritage American manufacturer, Cloth & Company. With four fresh, new hues of our iconic zebras motif, these pieces are designed for maximalist appeal.
SCALAMANDRÉ MAISON OFFERING FROM PORT 68
GALLERY OF ZEBRA INSTALLS
Inspiration
SHOW YOUR ZEBRAS
Art encourages self-expression through drawing or painting which can act as a positive distraction. Channel your energy into coloring our iconic ZEBRAS motif and create something beautiful! Get the whole family involved; this is the perfect activity for your understandably antsy kids, and might even provide you with a moment of tranquility!




DOWNLOAD THE PDF AND GET CREATIVE!

Share your Zebras on Instagram! Post your artwork, tag @SCALAMANDRE and use the hashtag #SHOWYOURZEBRAS to spread the love!